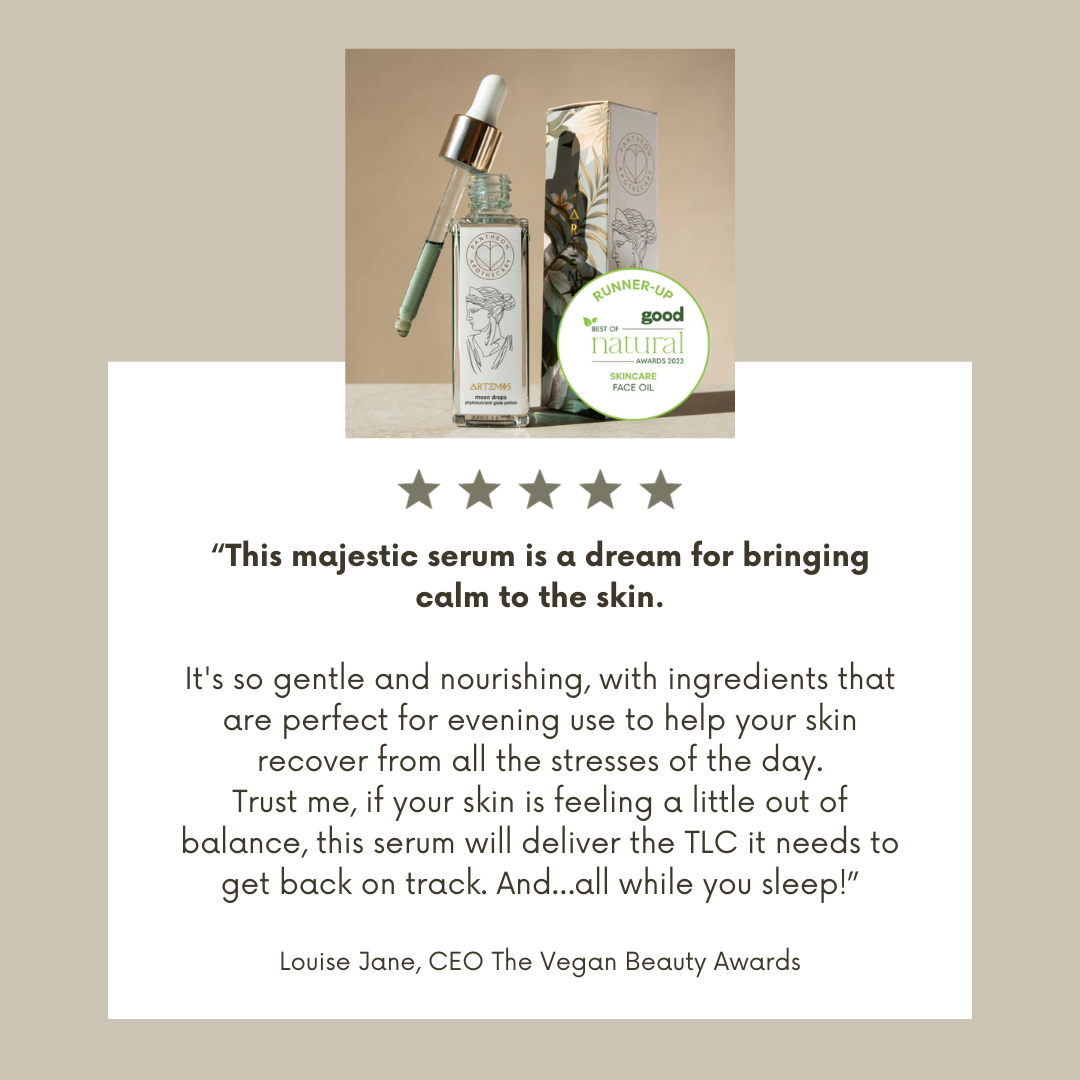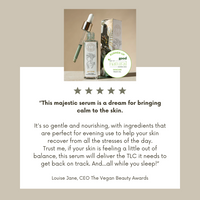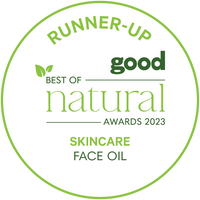 ARTEMIS - MOON DROPS - ADVANCED VITAMIN C THD SERUM
Artemis is specially formulated for those suffering blemishes and breakouts, with excellent results typically seen within 7 days of use*.  Anti-microbial ingredients stop breakouts and calming botanicals reduce redness and inflammation.

Artemis Moon Drops is a nurturing non-comedogenic night-time serum that rejuvenates your skin as you sleep. Its blend of active botanicals and exclusive herbal extracts provides a soothing and balancing effect, making it an excellent option for sensitive, reactive, or redness-prone skin.  

*based on typical customer feedback

AWARDS:
Runner-up Best Face Oil 
Best of Natural Awards 2023
• your skin is prone to redness, inflammation, rosacea
• you experience breakouts and blemishes
• you have oily skin or excess sebum production
Blue Tansy Flower Essential Oil: Known for its calming properties, Blue Tansy helps reduce redness and irritation, and helps to balance the skin's natural oil production, helping to reduce acne and breakouts.

Prickly Pear Seed Oil: Rich in essential fatty acids and antioxidants, it can help to improve skin elasticity and reduce the appearance of blemishes.

Jojoba Oil: An excellent moisturiser, it closely resembles the skin's natural oils, making it suitable for sensitive skin.

Vitamin C THD: An oil-soluble form of Vitamin C, THD is 30% more effective than L-ascorbic acid for anti-aging.

Squalane: It helps to lock in moisture and maintain the skin's suppleness.

Other essential oils included in the blend are German Chamomile and Yarrow Flower, each providing their unique antimicrobial, skin-nourishing and calming properties.
• Distilled Rose Ultimate Hydration Serum - try blending 1:1 in your hand and applying in one step for true alchemical skin magic
• Balance day cream
• Sapphire cleanser
Apply 4-8 drops to clean skin nightly. It can be used alone or blended with our ultra-hydrating hyaluronic acid serums for added nourishment and hydration.

Artemis Moon Drops are suitable for all skin types. Those with very sensitive skin should perform a spot-test first.
Squalane, Jojoba Oil, Prickly Pear Seed Oil, Blue Tansy Flower Essential Oil (Tanacetum Anuum), Tetrahexyldecyl Ascorbate, Tocopherols, German Chamomile Essential Oil, Yarrow Flower Essential Oil.