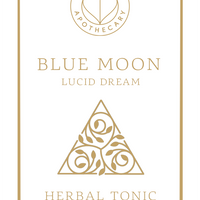 BLUE MOON - LUCID DREAM TONIC
Formulated with sedative herbs to assist in falling asleep, and to traditional dreaming herbs to promote vivid or lucid dreams.

Best taken at bedtime, with mindfulness.
60ml
• you are interested in exploring the experience of lucid dreaming
• you want to experience more vivid, memorable dreams
Butterfly Pea Flower is known for its calming and soothing effects, preparing your mind and body for a restful night's sleep.

Blue Vervain and Skullcap are beloved by herbalists for their sedative properties, offering relaxation and tranquility to restless minds.

Valerian is a potent sleep enhancer, often used as a natural remedy for insomnia. Its presence in our tonic helps ensure a deep, uninterrupted sleep, setting the stage for vivid dream experiences.

Blue Lotus has been traditionally revered for its mystical properties, used in various cultures to induce lucid dreaming and enhance spiritual connectivity.

Mugwort, a revered dream herb, is known to enhance dream recall and promote lucid dreaming, making it a vital ingredient in our dream tonic.
Take up to 5ml before bed, up to three times a week.
Please note: This tonic is not recommended for use during pregnancy or breastfeeding, or alongside prescription sedatives. It is a potent blend designed to work with your natural rhythms, enhancing the richness of dreams. As such, it may not be the best choice if you are looking for deep, restful sleep.
distilled water, ethyl alcohol (food grade), butterfly pea flower, blue vervain, skullcap, valerian, blue lotus flower, mugwort