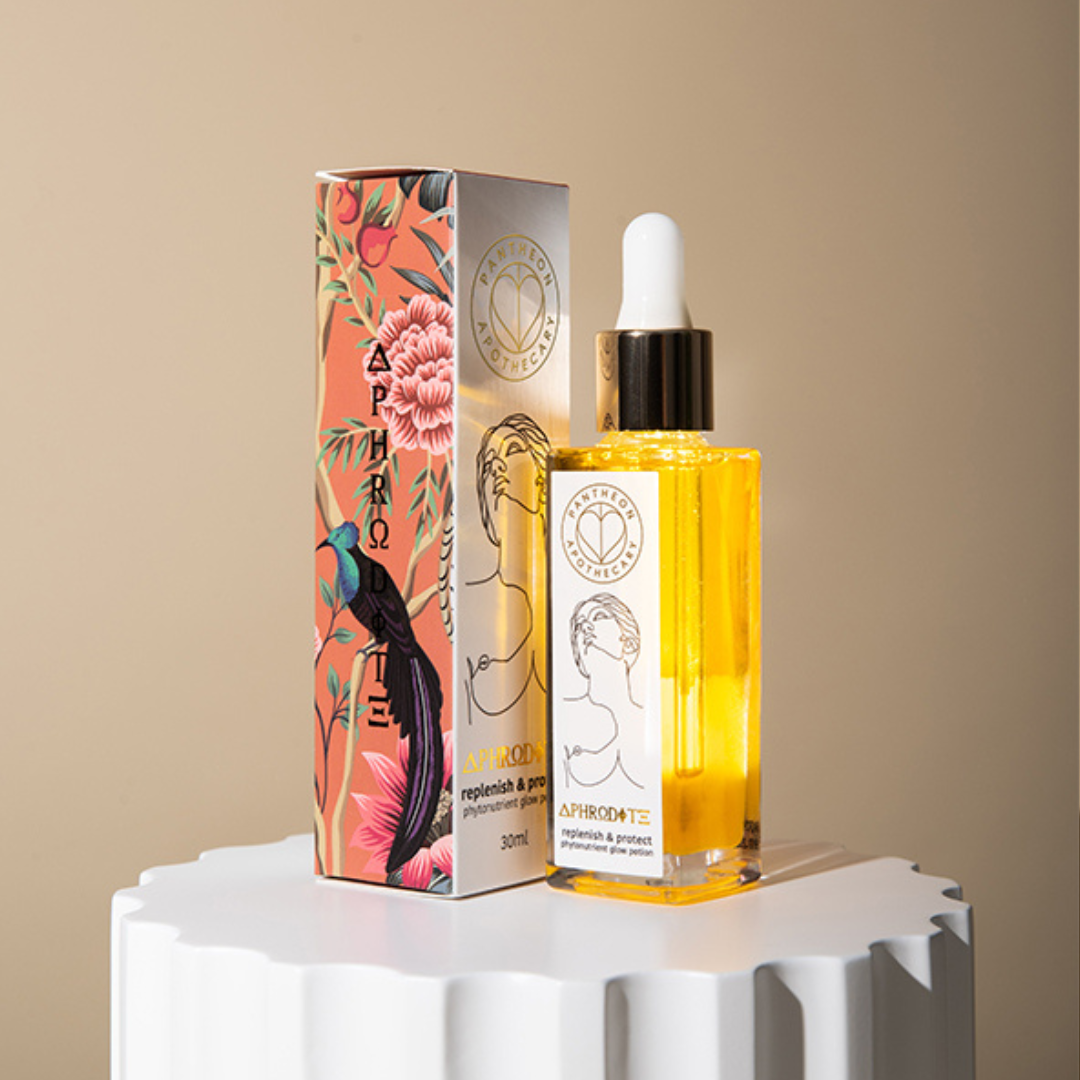 APHRODITE - REPLENISH & PROTECT - ADVANCED VITAMIN C THD SERUM
Aphrodite is a light-weight oil-based rejuvenating repair serum packed with antioxidants, healing botanical extracts, and Advanced vitamin C THD.

She is specifically designed to address the signs of ageing associated with sun exposure and UV damage, scavenging free radicals and reducing pigmentation.
• you spend a lot of time in the sun
• you are noticing signs of sun damage and pigmentation on your skin and you want to remedy this
• you have a dull, sluggish complexion with slow cellular turnover and you want to uncover fresher, more vibrant skin
• you have uneven skin tone
• you want to reduce fine lines and wrinkles
• you want to improve the tone and texture of your skin

Sea Buckthorn Fruit Extract: Packed with antioxidants, Sea Buckthorn is known for its ability to restore skin health and combat signs of aging.

Boswellic Acid: Contributes to cellular health and aids in reducing inflammation and redness.

Vitamin C THD: A potent, oil-soluble form of Vitamin C, THD has been shown to be 30% more effective for anti-aging than l-ascorbic acid.

Squalane: Derived from olives, Squalane is an exceptional hydrator and can prevent ongoing loss of hydration that impairs suppleness.

Other active ingredients include rejuvenating Rosehip oil, Jojoba oil, Chia seed oil, Prickly pear seed oil, and Pomegranate seed oil, which work together to brighten and refresh dull, dry, and sun-kissed skin.
• Distilled Rose Ultimate Hydration Serum - try blending 1:1 in your hand before applying as one step for true alchemical magic.
• Ruby Facial Polish
• Revitalise Day Cream
Apply 4-8 drops of Aphrodite after cleansing and toning to experience a regenerative, protective, and transformative daily treatment.

Apply in the morning and/or evening.
Squalane, Frankincense Resinoid Extract (Boswellia Sacra Resin & Capric/Caprylic Triglycerides), Calendula Extract (Calendula Officinalis & Capric/Caprylic Triglycerides), Rosehip Oil, Jojoba Oil, Chia Seed Oil, Prickly Pear Seed Oil, Pomegranate Seed Oil, Sea Buckthorn Fruit Oil, Tetrahexyldecyl Ascorbate, Tocopherols, Neroli Essential Oil, Rose Absolute, Chamomile Essential Oil.