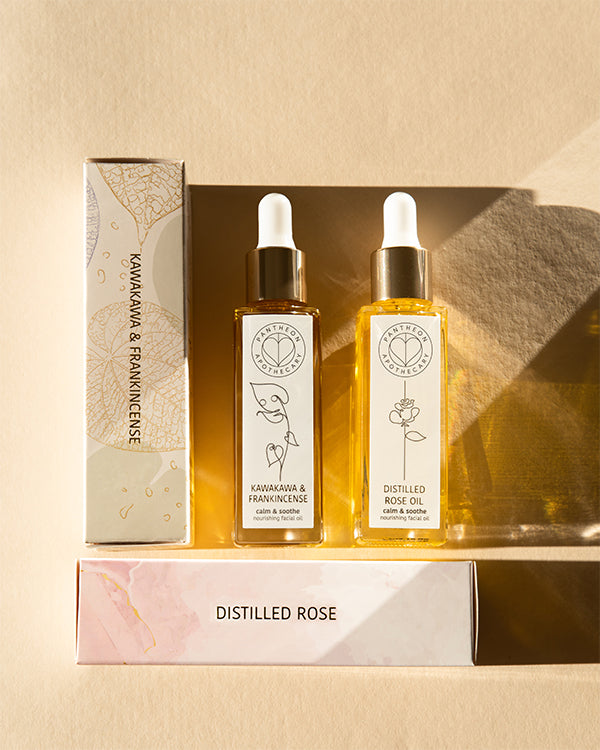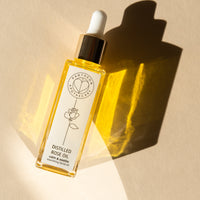 Treat yourself to a luxurious, no-fuss self-care ritual with our Distilled Rose Oil. Designed as the perfect accompaniment to our Distilled Rose Serum, this oil delivers a harmonious blend of hydration and nourishment, enhancing the efficacy of our serum without overpowering its unique attributes.
A true treat for rose aficionados, this oil is perfect for those who appreciate simplicity in skincare and want a fresh, glowing complexion. Our carefully curated blend of nutrient-rich plant oils and extracts work synergistically, delivering essential nutrients that help your skin thrive and look its best.
Suitable for all skin types.
• you are looking for a simple, but effective, no-fuss facial oil
• you want softer, plumper, more conditioned skin
• you want a smoother complexion
• you are a lover of roses
Squalane, a powerful emollient, helps to lock in moisture, leaving your skin hydrated and supple.

Golden Jojoba oil is known for its ability to mimic the skin's natural oils, balancing sebum production and providing just the right amount of hydration.

Macadamia oil is celebrated for its rich fatty acid content, which nourishes your skin deeply and encourages a youthful glow.

Apricot Kernel oil is packed with vitamins A and E, helping to soothe your skin and enhance its natural elasticity.

Rose Hip oil, a rich source of Vitamin C and essential fatty acids, aids in brightening your complexion and promoting overall skin health.

Finally, our oil is graced with the luxury of Rosa damascena absolute, revered for its skin-soothing properties and divine, calming scent.
• Distilled Rose Ultimate Hydration Serum
Use 4-8 drops on clean skin after cleansing and toning.

squalane, golden jojoba oil, macadamia oil, apricot kernel oil, rose hip oil, tocopherols, Rosa damascena absolute