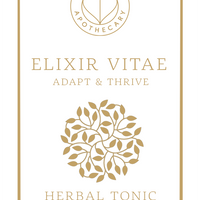 ELIXIR VITAE - ADAPT & THRIVE TONIC
A harmonious blend of potent adaptogenic herbs designed to support your body in times of stress. This tonic is formulated to help you maintain physical and mental balance in the face of emotional, psychological and environmental stressors.
Elixir Vitae is a potent blend of nature's best stress fighters. It's your go-to solution for maintaining mental clarity, physical vitality, and a sense of calm during stressful times. Tap into the power of adaptogens and thrive amidst the challenges of modern life.
• you experience physical, mental or emotional symptoms of stress
• you want to support your body to be resilient in the face of external or internal stressors
• you are a human living in the 21st Century
Eleuthero, also known as Siberian Ginseng, is a renowned adaptogen celebrated for its capacity to increase endurance, reduce fatigue, and help your body adapt to external stressors. It's your ally in combating physical exhaustion and promoting energetic equilibrium.

Withania, or Ashwagandha, is an ancient herb often referred to as Indian Ginseng. It's prized for its stress-busting properties, aiding in achieving a settled mind and promoting a sense of calm. It's also reputed to support cognitive function, helping to keep your mind sharp when it matters most.

He Shou Wu, a cornerstone in Traditional Chinese Medicine, is known for its rejuvenating properties. It aids in resilience, boosting vitality, and promoting overall wellbeing. This revered herb is your partner in longevity and maintaining youthful vigor.

Reishi, the "mushroom of immortality," has a history of use spanning over 2000 years. It promotes physical resilience, and helps to achieve overall mental clarity and peace. It's your companion in achieving tranquillity amidst the chaos.

Rhodiola is an arctic herb used for centuries as a powerful adaptogen. It is known to enhance mental performance, help alleviate stress-induced fatigue, and support a healthy mood. Rhodiola is your support system when you need a mental and physical lift.

Korean Ginseng is a globally respected adaptogen that supports the body's natural response to stress, boosts energy levels, and promotes cognitive performance. It is your secret weapon in maintaining peak mental and physical performance.
Take 5ml up to three times daily in water or juice.

Store cool and dark.
Keep out of reach of children.

While the herbs in this blend are safe and non-toxic, those on medication, or with chronic illness, should check with their doctor first.

Not recommeded during pregnancy.
distilled water, food grade ethyl alcohol, Eleuthero, Withania, He Shou Wu, Reishi, Rhodiola, Korean ginseng