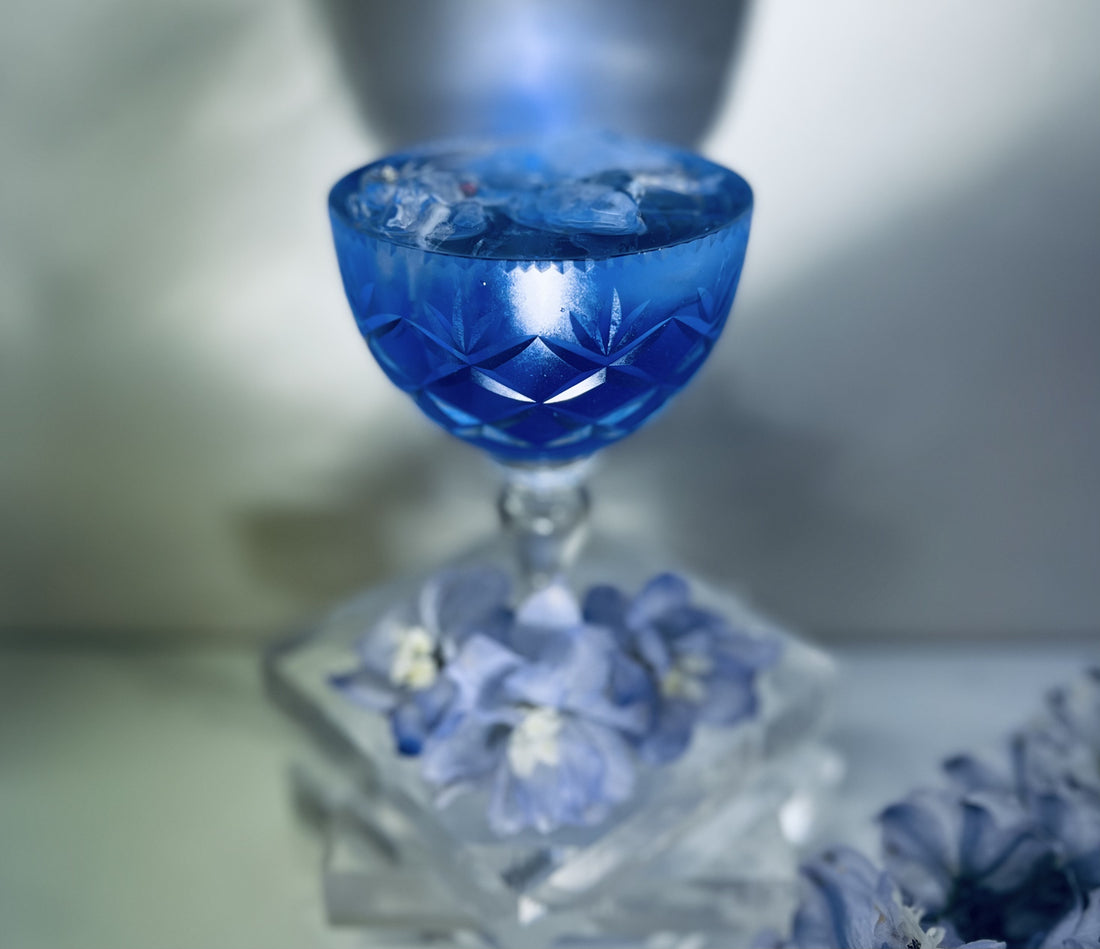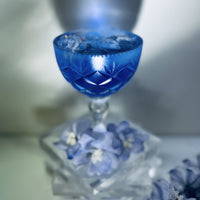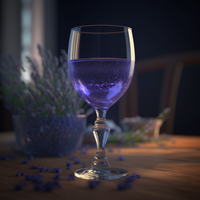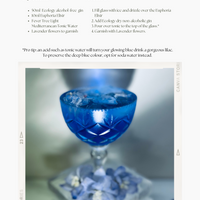 EUPHORIA ELIXIR - BEST BEFORE FEB2024
Euphoria Elixir is a unique formulation featuring butterfly pea flower, lavender flower, rhodiola, tulsi, and shatavari. This carefully selected combination of herbs offers a gentle flavour and a gorgeous lavender aroma profile that enhances your drinks and provides an uplifting effect.
Crafted in an organic base of palm-free glycerine and ultra-distilled water, the Euphoria Elixir is designed to bring a touch of magic to your beverages. Watch the transformation of its deep blue hue to a beautiful lilac color when mixed with acidic ingredients such as tonic water or lemon juice, adding an enchanting twist to your drinking experience. 
• you love beautiful, aromatic drinks
• you're looking to lift your mood and reduce stress
• you're looking for something unique for your next cocktail night
• you want a healthy substitute for flavoured sodas
Butterfly Pea Flower: Renowned for its vibrant color-changing property, butterfly pea flower is a rich source of antioxidants and promotes a feeling of peaceful wellbeing.

Lavender Flower: Famous for its calming aroma, lavender also promotes relaxation and stress relief.

Rhodiola: Often used to combat fatigue and increase mental performance, Rhodiola is a potent adaptogen.

Tulsi (Holy Basil): Revered for its adaptogenic and stress-relieving properties, tulsi also supports a healthy immune system.

Shatavari: This powerful herb is used to help maintain emotional balance and support female reproductive health. It is widely considered a potent Yin tonic.
Use 5-10ml as a unique ingredient in cocktails and mocktails, or simply add to sparkling water or light tonic for a delicious floral twist.
Keep out of reach of children.
Store cool & dark.
organic palm-free glycerine (pharmaceutical grade), distilled water, butterfly pea flower, lavender, tulsi, shatavari, rhodiola