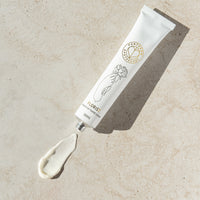 FLORIST BOTANICAL HAND CREAM
A light and nourishing blend of cacao butter, shea butter and aloe vera, this cream is quickly absorbed and leaving no greasy residue.  Lightly scented with a fresh floral bouquet.

A handy 50ml tube - perfect for your handbag.
• your skin tends to roughness on your hands
• you have splits or peeling skin around your nails
• you wash your hands or sanitise often
Aloe Barbadensis Juice - Known for its soothing properties, aloe vera juice offers a cooling relief to dry, irritated skin, while also promoting hydration and skin repair.

Avocado Oil - A nutrient-rich oil that penetrates deeply into the skin, delivering vitamins, fatty acids, and antioxidants that nourish, hydrate, and protect the skin.

Sunflower Oil - Rich in Vitamin E, it helps to keep the skin healthy and resilient, protecting it from environmental stressors and retaining moisture.

Shea Butter - A powerhouse of fatty acids and vitamins, Shea butter intensely moisturizes the skin and helps to soothe irritation.

Cacao Butter - Packed with antioxidants, it helps to fight off free-radical damage while providing deep hydration and nourishment to the skin.

Apply a small amount of cream to the hands and massage in. Wait a few moments for the cream to absorb completely before going on with your day.
aloe barbadensis juice*, avocado oil*, sunflower oil*, shea butter*, cacao butter*, glycerine*, cetearyl olivate, sorbitan olivate, dehydroacetic acid, benzyl alcohol, aqua, natural perfume**, caesalpinia spinosa gum, totarol*

*certified organic ingredient
**a blend of essential oils and natural isolates