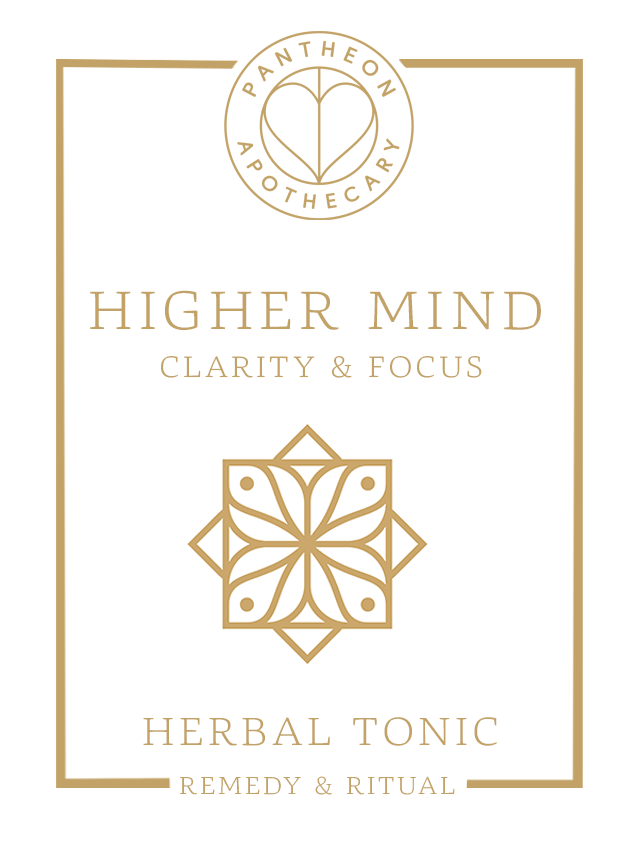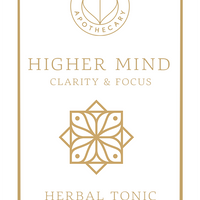 HIGHER MIND - CLARITY & FOCUS TONIC
Increase clarity and focus with our Higher Mind tonic.
This powerful blend of renowned nervine herbs is formulated to sharpen your mind, dispel worry and clouded thoughts, and dispel brain fog. This tonic is your ally for a sharper, more focused mind.

To maximize its benefits, it is recommended to include this tonic in your daily self-care routine.
• you experience brain fog or cognitive difficulty
• you struggle to focus
• you feel mentally drained
• you experience stress headaches
Bacopa - Recognized as a potent nootropic, Bacopa has been traditionally used to enhance memory, cognitive abilities, and combat stress. It helps promote concentration, allowing you to focus more efficiently on your tasks.

Green Tea - With a high content of catechins and polyphenols, Green Tea has been associated with increased brain function and alertness. The caffeine in green tea provides a gentle stimulant effect, without the jitteriness often associated with coffee.

Rhodiola - A celebrated adaptogen, Rhodiola has shown potential in improving mood, reducing fatigue and enhancing cognitive performance. It can help your body and mind adapt to and resist physical, environmental and emotional stressors.

Ginkgo - Renowned for its positive effects on brain health and cognition, Ginkgo has been used to improve concentration, memory and mental clarity. Its antioxidants combat oxidative stress in the brain, promoting healthy cognitive function.
Take 5ml up to 3 times daily in water or juice.

Keep out of reach of children.
Store cool and dark.
This product is not recommended for use during pregnancy or breastfeeding.

Individuals on prescription medications should consult with a healthcare professional before use.
distilled water, ethyl alcohol, bacopa, green tea, rhodiola, ginkgo