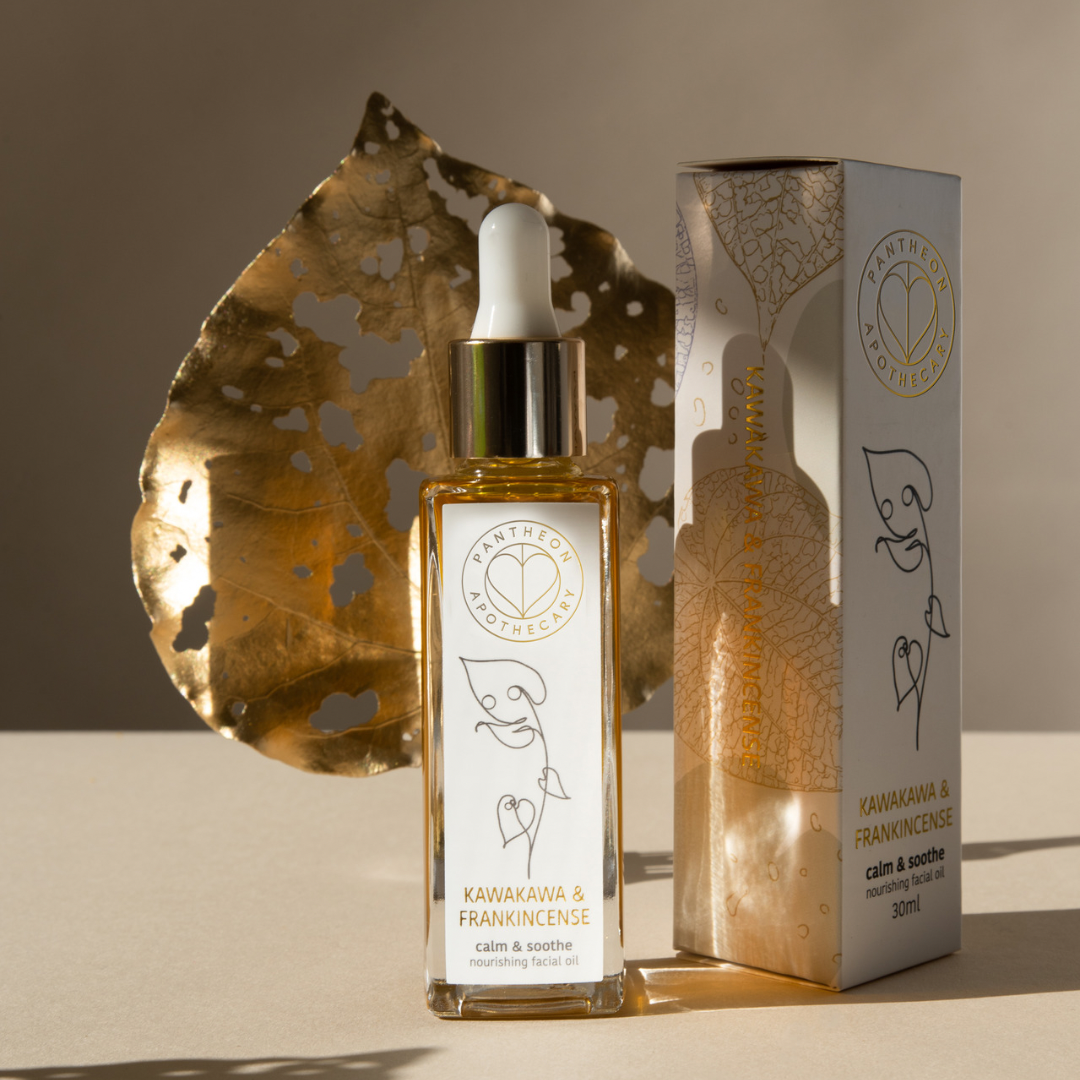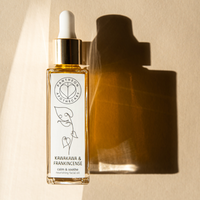 KAWAKAWA & FRANKINCENSE FACIAL OIL
A cornerstone of our Pantheon Skin range for over a decade. Crafted with a special blend of natural ingredients and therapeutic extracts, this facial oil is designed to enhance your skin's natural beauty and promote its overall health.

At the heart of our formula lies a complete resinoid extract of Boswellia sacra frankincense resin. Unlike its distilled essential oil counterpart, this extract preserves the full spectrum of healing properties from the frankincense, including the potent boswellic acid known for its potential cancer-fighting effects. Combined with our in-house Kawakawa and Calendula oleo-extracts, this blend offers a truly therapeutic experience for your skin.
• you need a richer facial oil
• you experience dryness, dullness, uneven skin tone, fine lines and wrinkles
• you like to combine skin care and aromatherapy
• you need to relax and unwind from a stressful day
• you see signs of UV/sun damage in your skin
Kawakawa oleo-extract*: Our in-house Kawakawa extract offers soothing properties, helping to calm and balance the skin. It may also assist in reducing inflammation and irritation.

Calendula oleo-extract*: Also made in-house, our Calendula extract is known for its soothing and healing properties. It aids in relieving skin discomfort and promoting a balanced complexion.

Macadamia oil*: Rich in omega fatty acids 3, 6 & 9, Macadamia oil deeply moisturizes and softens the skin. It helps to restore the skin's natural barrier and promote a plump and youthful complexion.

Unrefined Avocado oil*: Packed with essential nutrients and vitamins, Avocado oil nourishes and rejuvenates the skin. It provides deep hydration and supports the skin's elasticity, promoting a smooth and supple appearance.

Frankincense Resinoid Extract**: Our complete resinoid extract of Boswellia sacra frankincense resin retains the full range of healing properties, including the valuable boswellic acid. It contributes to the overall well-being of the skin, promoting a healthy and radiant complexion.
• Emerald Facial oil
• Distilled Rose Serum
Apply 4-8 drops to clean skin after toning.

Add a few drops to your moisturiser as a luxurious booster.

Layer with Distilled Rose of Kawakawa & Frankincense Ultimate Hydration Serums for alchemical skin magic.

For external use only.
Store cool and dark.
Kawakawa* extract in capric/capryllic triglycerides, Calendula* extract in capric/capryllic triglycerides, Macadamia oil*, Avocado oil*, Frankincense Resinoid Extract**, Tocopherols, Lavender Essential Oil*.

*Certified Organic Ingredient
**Sustainably Harvested