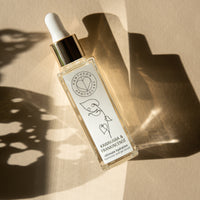 KAWAKAWA & FRANKINCENSE ULTIMATE HYDRATION SERUM
Introducing our Hydrosol and Kawakawa Extract Serum, a gentle yet powerful hydrating serum that delivers plumper, smoother, and dewy soft skin. Infused with pure vegan hyaluronic acid, this serum provides the ultimate hydration your skin craves.
This serum is specially formulated for sensitive skin. It features a careful blend of key ingredients known for their skin-soothing properties. 
Use this serum on its own as a delightful skin treat or combine it with our Kawakawa & Frankincense facial oil, Artemis glow potion, or Gaia glow potion for a complete and luxurious skin treatment.
Size: 30ml
• you have sensitive skin prone to redness and/or heat.
• you find our Distilled Rose Serum too strong for your skin
• you want plump, dewy, hydrated skin
Frankincense Hydrosol: Derived from the resin of Boswellia sacra, frankincense hydrosol is a gentle and calming ingredient. It helps to soothe sensitive skin, reduce redness, and promote a balanced complexion.

Kawakawa Cellular Extract: Kawakawa, a native New Zealand plant, is renowned for its soothing and healing properties. It contains antioxidants that help protect the skin from environmental stressors, reduce inflammation, and promote skin rejuvenation.

Sodium Hyaluronate (Vegan Hyaluronic Acid): This powerful humectant attracts and holds moisture in the skin, providing deep hydration and plumping effects. It helps to smooth out fine lines and wrinkles, resulting in a more youthful and hydrated complexion.
• kawakawa & frankincense facial oil
• Apollo Sun God phytonutrient glow potion
• Artemis Moon Drops phytonutrient glow potion
Apply 4-6 drops to the face, neck and décolletage after cleansing. Follow with a moisturiser or facial oil serum.

Try blending 1:1 with one of our phytonutrient glow potions for true alchemical skin magic.
frankincense hydrosol, organic palm-free glycerin, kawakawa cellular extract, sodium hyaluronate, gluconolactone, sodium benzoate