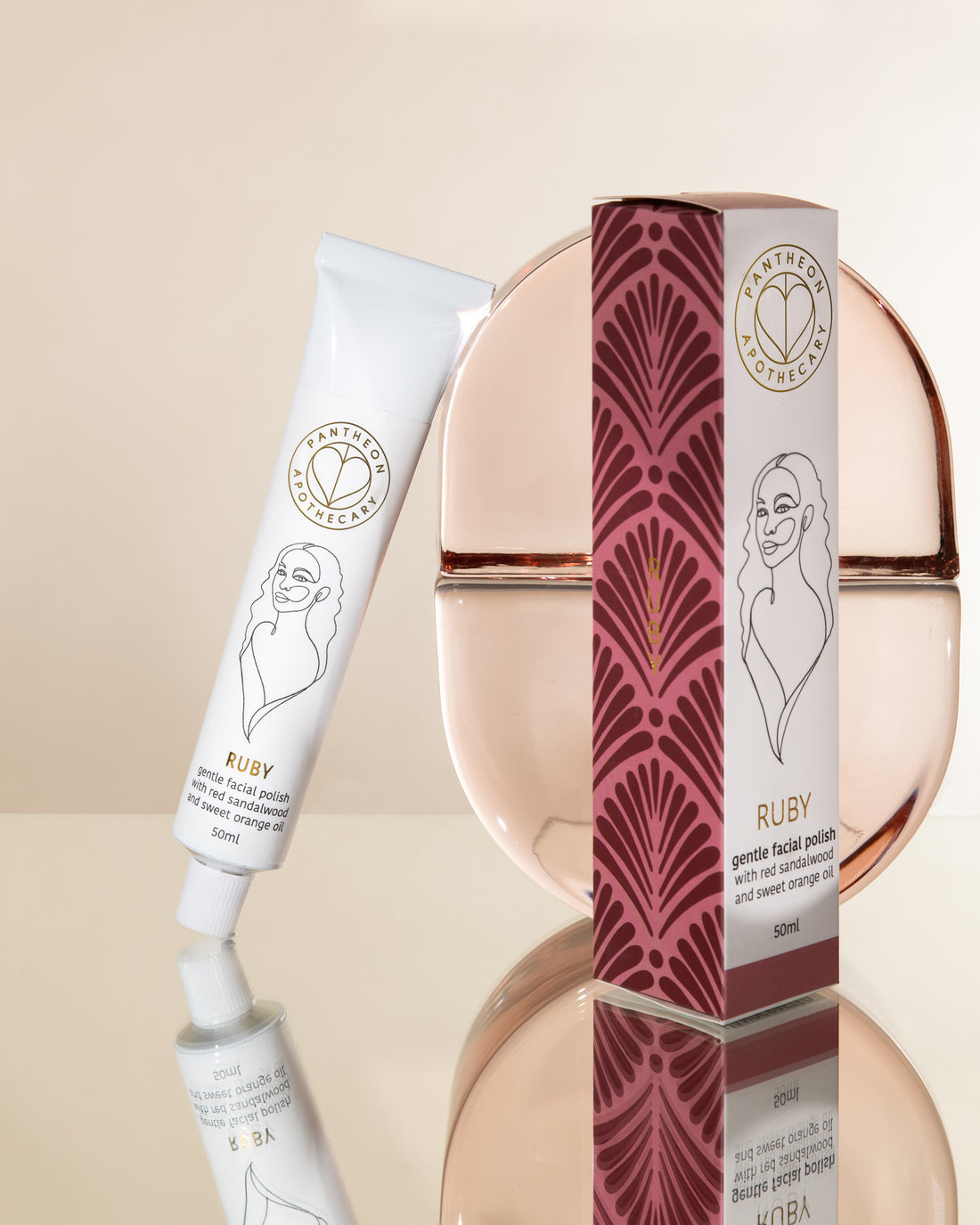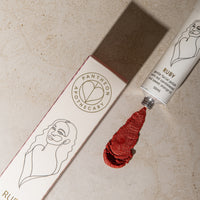 Ruby Facial Polish, our gentle exfoliating cleanser, will leave your skin as smooth as polished marble. Experience the unique blend of soft sandalwood powder and kaolin clay, carefully formulated to provide an effective cleansing experience that supports your skin's delicate balance and maintains the integrity of your natural skin barrier.
What sets Ruby Facial Polish apart is its waterless formula, free from preservatives, making it a clean and cost effective choice. Simply mix a small amount of the concentrate with a little water to create a luxurious foaming milk that effortlessly cleanses and nourishes your skin. For an even smoother polish, use it on damp skin without dilution, allowing the natural ingredients to work their magic. The gentle and effective natural exfoliants delicately remove impurities and dead skin cells, unveiling a smoother, softer, and more radiant complexion. Say goodbye to rough skin without compromising your skin's natural moisture balance.
• you have rough, uneven, or flakey skin
• you wear makeup and SPF habitually
• you experience clogged pores, blemishes or black heads
• you want to reveal brighter, fresher skin without damaging your skin barrier with harsh abrasive exfoliants or strong acids.

Capric/Caprylic Triglycerides: These skin-conditioning agents help to enhance the texture and feel of the product, leaving the skin soft and supple.

Kaolin Clay: Known for its purifying properties, kaolin clay gently removes impurities and absorbs excess oil, promoting a clearer complexion.

Sodium Cocoyl Isethionate: A gentle surfactant derived from coconut oil that effectively cleanses the skin without causing dryness or irritation.

Red Sandalwood Powder and Kaolin clay: These natural ingredients provides gentle exfoliation, promoting smoother and more even-toned skin.

Jojoba Wax Beads: These biodegradable beads offer mild exfoliation, helping to slough away dead skin cells and reveal a fresh, glowing complexion without disturbing your skin barrier.
• Distilled Rose Serum
• your favourite Pantheon Skin glow potion
• Restore or Revitalise moisturising creams
• Emerald oil cleanser or Sapphire cleansing gel
Use a pea-sized amount of Ruby to cleanse the face up to 3 times per week.
Mix with a little water for a gentle cleansing milk, or use undiluted on damp skin for a smoother polish.

For external use only.
Ruby is a waterless, preservative-free product. Avoid introducing water to the packaged product as this may upset the microbial balance.
Capric/Caprylic Triglycerides, Kaolin Clay, Sodium Cocoyl Isethionate, Red Sandalwood Powder, Jojoba Wax Beads, Tocopherols, Sweet Orange Essential Oil